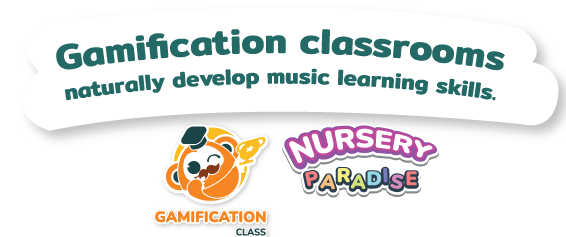 Change music learning to be easy and fun with the Music Gamification Platform by using games to motivate children to want to learn.
Revolutionize the old way of learning music. Enter learning opportunities with Gamification technology or learning through games that combine technology with fun learning music. children get inspired and can develop rapidly and natural
Gamification +
Game - Based Learning
 "If our children intend to study for exams It would be good to concentrate on practicing music like he can play games all day." Many people must have thought like this.
This was the beginning of Notero, an innovative music learning innovation that revolutionized the monotony of music practice. And help facilitate teachers to track student learning results, save time and see results quickly.
Notero is the combination of "GAME – BASED LEARNING" with "GAMIFICATION" for maximum benefit to children, the future of the nation (of learners).
What is Game-Based Learning?
And how is it different from Gamification? (Game - Based Learning VS Gamification)
Game - Based Learning is where children (learners) will learn about the topic. Or different subjects through game media. For example, a teacher at a school in the USA uses Assassin's Creed in history and architecture subjects. And for Notero, we changed from the Music Game that children are already familiar with, such as Just Dance / Audition / Guitar Hero (prepare to find illustrations) to play with real instruments instead.
People who already play guitar can come to play Guitar Hero is not difficult, but those who can play Guitar Hero often cannot come to play the real guitar, must pass the course first "Why don't we just let the kids play games with real instruments?"
"Why don't we let our kids play games with real musical instruments?"
This is the origin of Notero Game - Based Learning.
There is no fear that Notero will make our children addicted to the game. Because a global company like Microsoft itself uses Gamification in the company to increase the efficiency of employees.
Because it's just incentivized with rewards. (Gamification) alone, perhaps not enough. Children of learning age tend to get bored easily, so we take good behavior with children (for Notero, it's music practice) and turn it into a serious game. Like a Music Game that children are familiar with and can play all day. and play for a long time It's not just playing, you get bored and eventually stop playing.
Currently, we are involved in the development of the music education system in Thailand together with music teachers. and schools in many areas both in Bangkok and other provinces Children who learn music from our system will have a good development Able to learn musical language or international notes and be able to continue with confidence both learning music or use the acquired skills to further develop further studies in other fields no end
ปัจจุบัน เราได้มีส่วนร่วมในการพัฒนาระบบการเรียนการสอนดนตรีในประเทศไทย
ร่วมกับคุณครูดนตรี และโรงเรียนในหลายๆพื้นที่ทั้งใน กรุงเทพ และต่างจังหวัด

เด็กๆที่ได้มีโอกาสเรียนดนจรีจากระบบของเรา จะสมารถมีพํฒนาการที่ดี สามารถเรียนรู้ภาษาดนตรี หรือโน๊ตสากล

และสามารต่อยอดต่อไปได้ดวยความมั่นใจ ทั้งทางด้านการเรียนดนตรี หรือนำทักษะที่ได้ไปพัฒนาต่อยอดในการศึกาาด้าานอื่นๆได้ต่อไป ไม่มีที่สิ้นสุด